Race: Earth Pony
Name: Dr. Honey Heart
Gender: Female
Appearance: Honey is a medium statured female earth pony with a pale teal coat. Her hind quarters are speckled with a deep purple that matches her mane's main color. Her mane has a streak of deep teal through it, the same color as her eyes. Her cutie mark is a pink heart with a bright white lifeline through it. She wears a pair of oval shaped black rimmed glasses.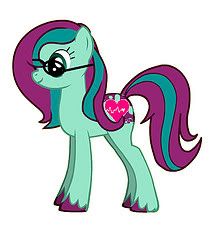 Faction: Neutral
Personality: Honey is a very kind-hearted pony with a sunny disposition. She is always seeing the best in each situation, and is kind to anyone, no matter their race. She is friendly and gentle, with a great bedside manner that endears her to patients and families alike.
Special Talent: Medical expertise. Honey studied long and hard and found her special talent for medical care. Patients in her care have been proven to recover from their injuries and illnesses quicker due to faster diagnosis.
Bio: Honey Heart was born in Ponyville, the older of a pair of twin fillies. While her sister, Wild Heart, grew up doing as she pleased, with no repercussions, Honey spent her time immersed in her studies. Both of her parents were working class ponies, with little education, but they knew Honey had potential and nurtured her with private schooling, the best books they could afford, and tutors when she asked for them.
It was in private school in Canterlot where she realized her love of medical study, which she learned while volunteering at a local hospital reading to sick fillies and colts in the intensive care wing. She knew then and there that her path was to become a doctor, and it was then that her cutie mark appeared. She grew into an intelligent and hard working pony, and was able to receive a scholarship to medical school in Fillydelphia. There she studied medicine deeply, and both folk and pharmaceutical remedies.
After her graduation, Honey moved back to Ponyville to take care of the town she'd been raised in, and to spend time with the ponies she loved.